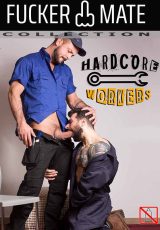 About a month ago one of my neighbors had a couple of guys out to take up an old patio in her garden and I admit that I spent far too long ogling one of the young men she'd hired for the job. Yeah, I have a thing for blue collar cock too, and this guy looked damn fine with his muscled body bulging in his navy coveralls.
If you're like me and have a thing for hard working men getting sweaty and horny together then Hardcore Workers from Fuckermate is going to have you jerking that dick and spurting some good loads with them.
You get five scenes of sweaty, greedy, gooey action in this hour and forty-five minute delivery, with all kinds of hot European men sharing some of the horniest bareback fucking.
Stars: Abel Sanztin, Dann Grey, Jay Carter, Koldo Goran, Logan Moore, Miiothy Miio, Oscar Marin, Patrick Dei, Sir Peter, Viktor Rom
Studio: Fucker Mate
To share Post:
Tweetar
Categories: DVD, MOVIES PORN GAY
Tags: DVD Gay Online, DVD Gay Porno, DVD Porn Gay, Filme gay completo, Free Full Length Gay Porn Movies, FREE GAY PORN MOVIES, Full Movie, GAY PORN VIDEOS, Porn Gay, Video Gay Online